All donations are tax-deductible and aid in empowering people of all abilities
There is no amount too small.
All gifts, regardless of the amount, are important to Unlimited Care. Funds have been used in the recent past to support trips and workshops for our Ability Works Activity Program, purchasing assistive technology, creation of new programs, and many other projects.
If you wish to designate your gift for a specific purpose, please note when making your donation. Otherwise, your donation will be used where we have the most urgent need.
Alleghenies Unlimited Care Providers is approved by the Internal Revenue Service as a 501(c)(3) tax-exempt charitable organization and all donations may be tax deductible to the extent provided by law.
Unlimited Care is registered with the Pennsylvania Department of State Bureau of Charitable Organizations. To receive a copy of the official registration and financial information, please call 800-732-0999 within Pennsylvania or visit www.dos.state.pa.us.
All gifts support meaningful action.
We are proud to operate several funds which benefit individuals on a very personal basis. All funds are structured to support and encourage independence and empowerment.
Ability Works Activity Program
Unlimited Care's Ability Works activity program offers educational, recreational, and social opportunities to individuals with limited and varying physical and/or mental abilities. Aimed to assist with happy, productive, and independent living, Ability Works is held year round and is open to the public to attend and enjoy.
Currently operating in Cambria, Blair, and Somerset counties, Ability Works focuses on five goals:
Increase independence
Support overall health and wellbeing
Enhance quality of life
Offer opportunities for community-integration and inclusion
Increase knowledge and awareness of various topics
Activities include, but are certainly not limited to:
Leisure Education
Arts & Crafts
Educational Speakers, Demonstrators, & Workshops
Music & Dance
Community Outings
Cooking & Nutrition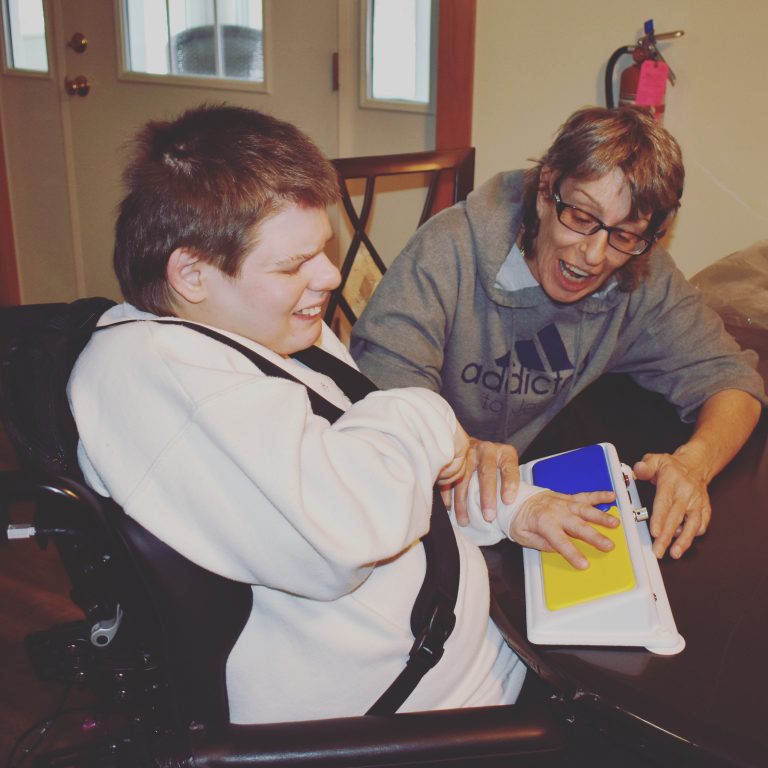 Diagnosed with cerebral palsy (CP) at a young age, Rachel Jane Gordon's family made it their mission to carry on her beautiful memory by helping others, like Rachel, to live more independent and happy lives.
Thanks to a generous grant through the Emma Clyde Hodge Memorial Fund, the Rachel's Dream program provides individuals with CP with needed equipment and resources to support communication, accessibility, daily activities of living, and safety.
Over the year's, this incredible fund has provided individuals with CP with so many important needs; including:
Sit-to-Stand lift for easy & safe transitioning
iPad for communicating with loved ones
Grab bars for bedroom and bathroom
Shower chairs with safety buckles
Hoyer Lift replacement parts
"Say It, Play It" Communication Device
Danny Veigh Memorial Fund
Danny loved balloons, silly animal videos, marshmallows, and watching the traffic outside of his window along Goucher Street. Living with cerebral palsy, he made connections with his family and friends through repetitive movements and noises; letting them know when he was happy or when he was frustrated. Danny loved his many caregivers and, especially, his brother Fred.
Like Danny, an enormous amount of individuals struggle to remain independent in their own homes due to lack of resources, equipment, support, and accessibility. 
Thanks to Danny's generous family, the Danny Veigh Fund helps to counteract these issues by working to keep all individuals (regardless of ability-level) safe, healthy, and thriving at home with the resources they need by providing:
Accessible Equipment | Lifts, raised toilet seats, ramps, utensils, grab bars, etc.
Assistive Technology | Communication devices, smart home technologies; including: smart speakers and iPads that assist users in locking doors, setting medication reminders, making lists, turning on lights, asking for help, and implementing security based on disability.
Community Living | The fund sponsors one of our Community Living Arrangement homes– which is now known as the Danny Veigh Home. The DV Home currently has three residents who enjoy regular life with 24/7 as-needed assistance available.
In 2016, Unlimited Care's Board of Directors implemented a restricted fund focused on an annual, one-time scholarship award to one or more local high school senior(s) to support furthering their education.
The application, which is offered to young people with any physical and/or mental limitation attending any Cambria County school district, requests a visual poem submission along with other requirements.
Unlimited Care's Board of Directors looks forward to offering the scholarship opportunity on an annual basis with hopes to assist, support, and celebrate community youth in their future, educational endeavors.
Past Recipients:
2017 | Taylor Hoover (Cambria Heights HS), Mary Mognet (Forest Hills HS), Todd Neisner (Conemaugh Valley HS)
2018/19 | Riley Allen (Greater Johnstown HS)
2019/20 | Emily Sherry (Central Cambria HS)

2020/21 | Laurel Makensey Bechel (Portage Area HS), Jadien Gordon (Greater Johnstown HS), Jamirah Davis (Greater Johnstown HS), Seth Plummer (Greater Johnstown HS)
2021/22 Gianina Galli (Central Cambria HS), Tyneasha Williams (Greater Johnstown HS)
All events are organized and operated to support our mission. We are so grateful to all attendees, our passionate volunteers, and the incredible organizations who choose to sponsor us… as they truly make everything possible!
"Putt for Purpose" Mini-Golf Fundraiser - May 5, 2023
100% of the proceeds from this event support our Ability Works activity program in providing educational, recreational, and social opportunities for individuals with disabilities. Ability Works focuses on empowering individuals to support their independence, confidence, and knowledge of available, accessibly resources.
Whether you participate, donate, or simply spread the word...
your support in our mission means the world to us.