Putt for Purpose | Mini-Golf Fundraiser
On Friday, January 27, Alleghenies Unlimited Care Providers welcomed 28 teams into their main office building on Jari Drive for their first annual Putt for Purpose fundraiser event! The event was a huge success raising over $8,000 for their Ability Works activity program which provides educational and social opportunities to individuals with varying levels of physical and/or mental capabilities
The event was sponsored by 1ST SUMMIT BANK along with numerous other, generous sponsors; including: CFO STRATEGIES, WELLS FARGO, WESSEL & COMPANY, UPMC, CBIZ INSURANCE, MARTIN-BAKER AMERICA, NORTH AMERICAN HÖGANÄS, AMERICAN RED CROSS, CONEMAUGH HEALTH SYSTEM, MIHALKO'S GENERAL CONTRACTING, OTS, INC., PENN INSTALLATIONS, PRO DISPOSAL, RDM – GREATER JOHNSTOWN WATER AUTHORITY, SPORY'S LOCKSMITH, TOATH ELECTRIC, VFW POST 155 GENERAL CHARLES T. MENOHER, WALNUT MEDICAL SERVICES, WPS/ DOING BETTER BUSINESS, and ZAMIAS SERVICES, INC.
CFO Strategies came in first place winning team trophies, gift certificates donated by PRESS Bistro, and hockey tickets donated by the Johnstown Tomahawks!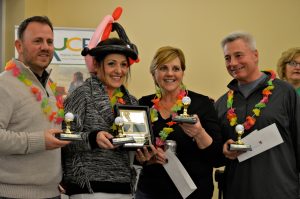 Their was numerous other winners throughout the night as names were drawn for 50/50, the Tee Board, Diamond in the Rough, and the many donated baskets. A very special awards ceremony also took place as volunteers announced the evenings "sash winners". Sashes were distributed to individuals who excelled in particular categories throughout the evening  "The King, Arnold Palmer" sash was awarded to Tim McCartney from WPS/ Doing Better Business for being "a classy gentlemen and someone you'd want to hit the greens with." 11 sashes were awarded in total.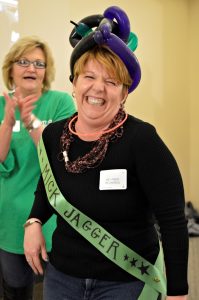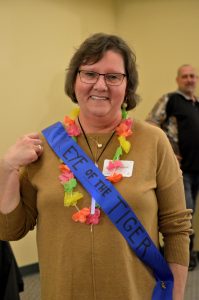 Coming in last place as the "Biggest Losers" was The Wrecking Crew! Although they came in last place, they had big smiles and were an awesome group of ladies to be around.
Putt for Purpose was a great success and an event that is bound to get better each year.
Visit AUCP's Facebook page for more pictures of the event!