Guest-Bartending with JAHA
Join AUCP as they "take-over" the Johnstown Area Heritage Associations (JAHA) LAST FRIDAY event!
On Friday, March 31st, Tasha Adams (Development) and Amber Ellis (Office Assistant) will be guest-bartending at the Heritage Discovery Center in Johnstown's Cambria City. Join them in the Ethnic Social Club where they will be mixing drinks, pouring drafts, and promoting all things AUCP! 
Doors open at 5:00PM and local Irish band "TREE" will start playing at 5:30PM. Admission is free, so grab your friends and arrange to attend this fun night out with AUCP!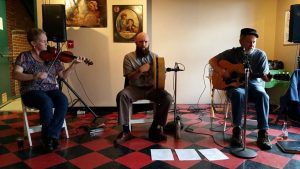 What: AUCP Bar Take-Over with the band "TREE"
When: Friday, March 31,2017 from 5-7PM
Where: Ethnic Social Club in the Heritage Discovery Center (201 6th Ave, Johnstown, PA 15906)
Why: To promote AUCP and get the word about all that we do here!
Join and share the Facebook event page by clicking HERE